Note that Gallery post type don't have detail page. It only has archive and category list page.
– Creating / Editing Gallery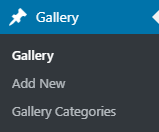 Step 1 – Navigate to Gallery in your WordPress admin sidebar. Click Add New to make a new post.
Step 2 – Enter title.
Step 3 – Insert your post content in the editing field.
Step 4 – Add Categories from the right side. To assign it to the post, check the box next to the category name.
Step 5 – Add Featured Image. In order to add featured image for your post, click the first Featured Image Box, select an image and click the Set Featured Image button.

Step 6 – Once you are finished, click Publish or Update in the right side to save the post.