1. WHAT IS DROPSHIPPING?
Dropshipping is a retail fulfillment method where a store doesn't keep the products it sells in stock. Instead, when a store sells a product using the dropshipping model, it purchases the item from a third party and has it shipped directly to the customer. As a result, the seller doesn't have to handle the product directly.
The biggest difference between dropshipping and the standard retail model is that the selling merchant doesn't stock or own inventory. Instead, the seller purchases inventory as needed from a third party—usually a wholesaler or manufacturer—to fulfill orders.
Here is a few example of how beneficial dropshipping is:
Dropshipping minimizes startup risks: Your business is less susceptible to loss of revenue as a result of changes in tastes or trends because there is no such thing as excess inventory. Lower volume niche products can be offered along-side popular best sellers.
Dropshipping provides wide selection of products to sell: Since you don't have to pre-purchase the items you sell, you can offer an array of trending products to your potential customers. If suppliers stock an item, you can list it for sale on your online store at no additional cost.
Dropshipping lowers storage and logistics costs:A storage facility or retail location isn't needed – just the website where the items will be sold. Your business can offer a wider variety of products than would be possible if you had to buy and store all of the items you decided to sell.
Dropshipping means less work for merchants:All the hassle of packing of products to prepare them for shipment is taken care of for you. You can add new products to your offerings very quickly
Dropshipping means easier to scale:With a traditional retail business, if you receive three times the number of orders, you'll usually need to do three times as much work. By leveraging dropshipping suppliers, most of the work to process additional orders will be borne by the suppliers, allowing you to expand with fewer growing pains and less incremental work.
2. DROPSHIPPING APPS
Here is few app that we found worth mention about

3. DROPSHIPPING EXAMPLE
Many apps provides dropshipping but we will use Oberlo as an example for this document.
First, you need to visit Oberlo in the Shopify App Store.
After that you need to click Add app. Oberlo will asks for permission to manage your orders, products, and other data. Click Install app to give Oberlo permission for all functions.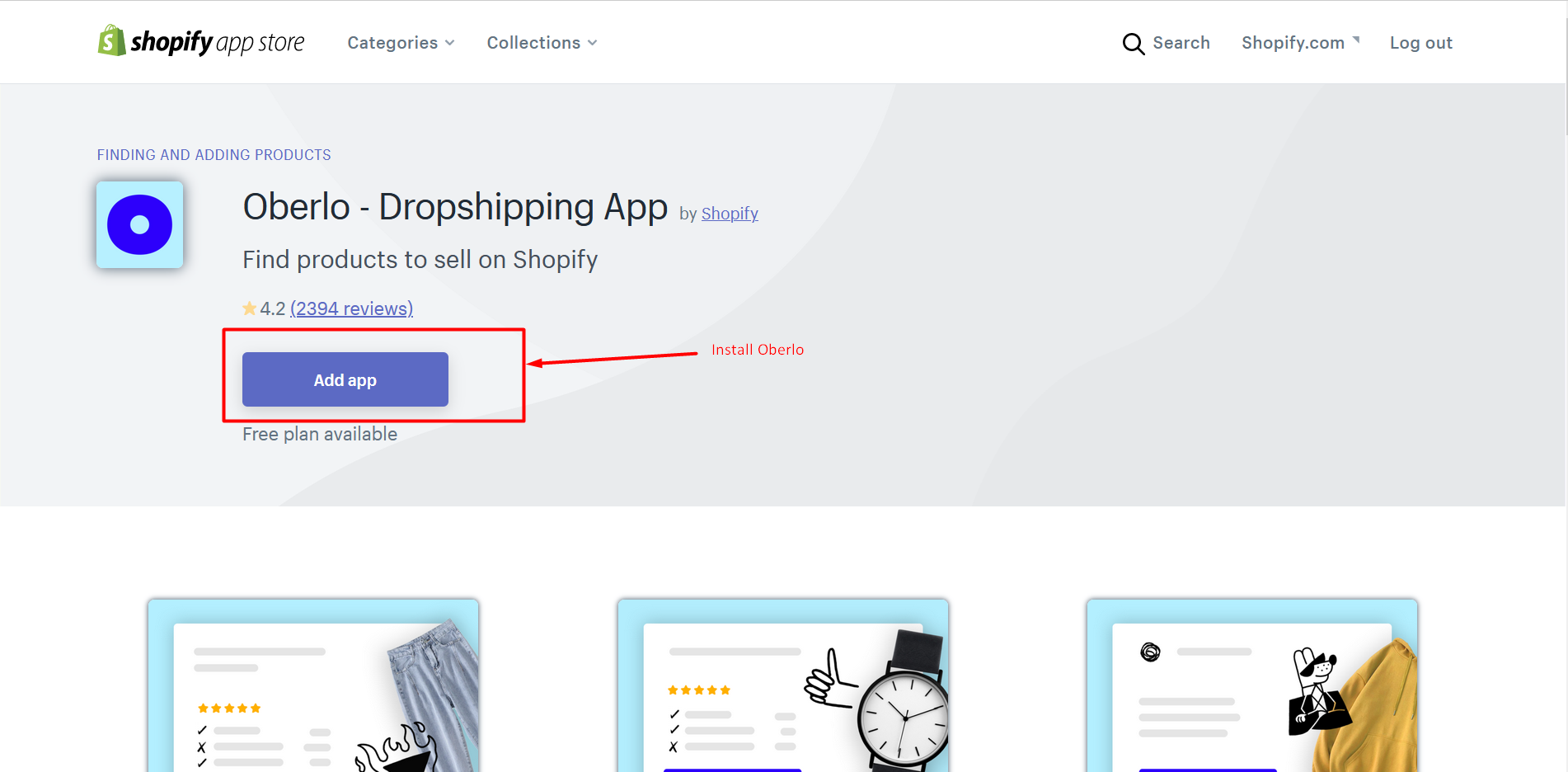 After that you need to login with an Oberlo account. Just create one with your own password or use the one you already created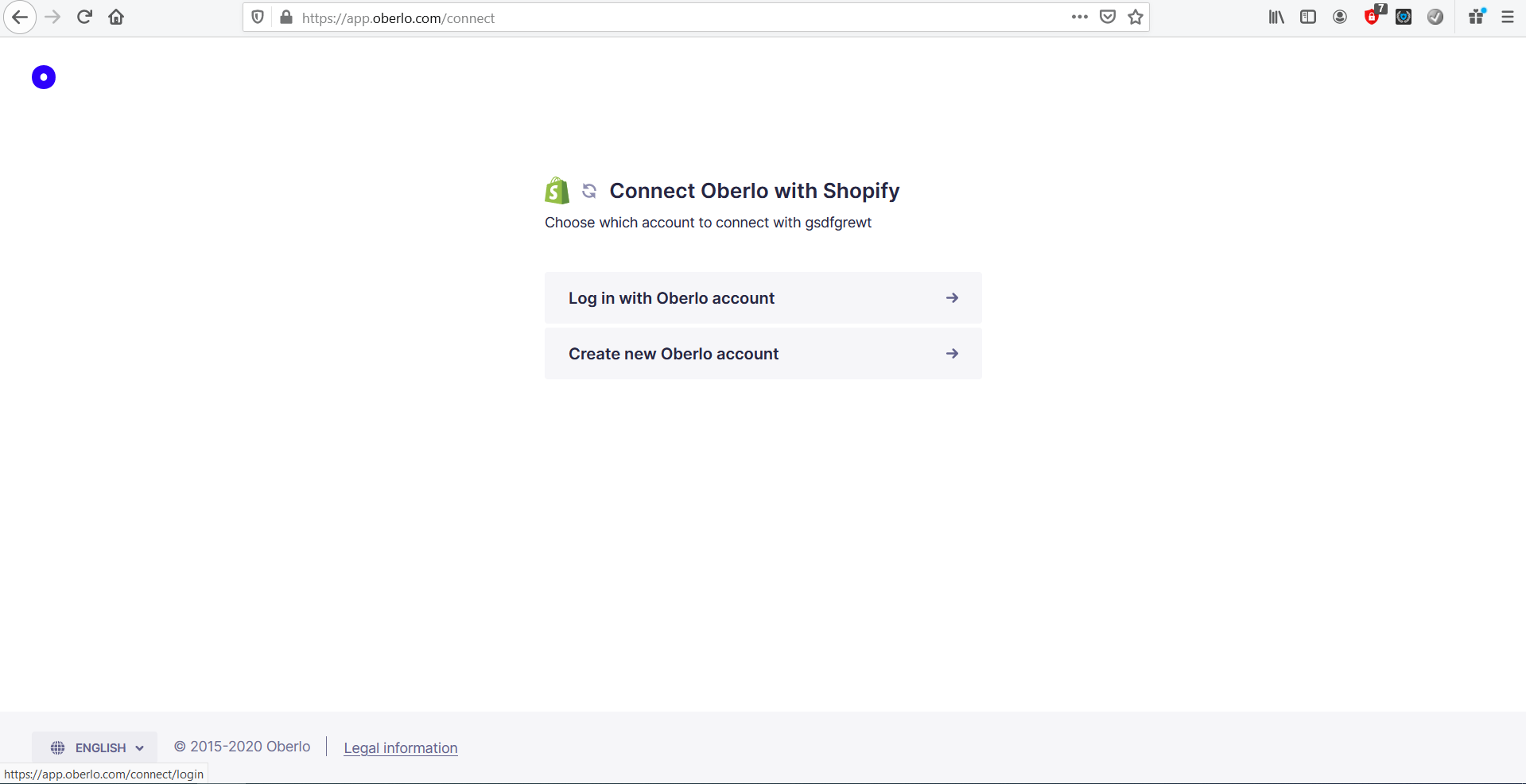 Finishing all the step above will take you to Oberlo. As you can see in the below image, there is 7 main section that can help you
Home: This is the landing page of the app. There is checklist and guide to help you utilize the app
Import List: The product you picked in Aliexpress but haven't.
Products: Products that already been added to your store.
Orders: Here you fullfill the orders that customers order in your shop.
Notifications: You will receive notification for critical change of product that you currently dropshipping.
Find products: The most important feature of the app that allows you to find and import product from aliexpress.
Settings: Where you can adjust extra rule for price, tax, product update,…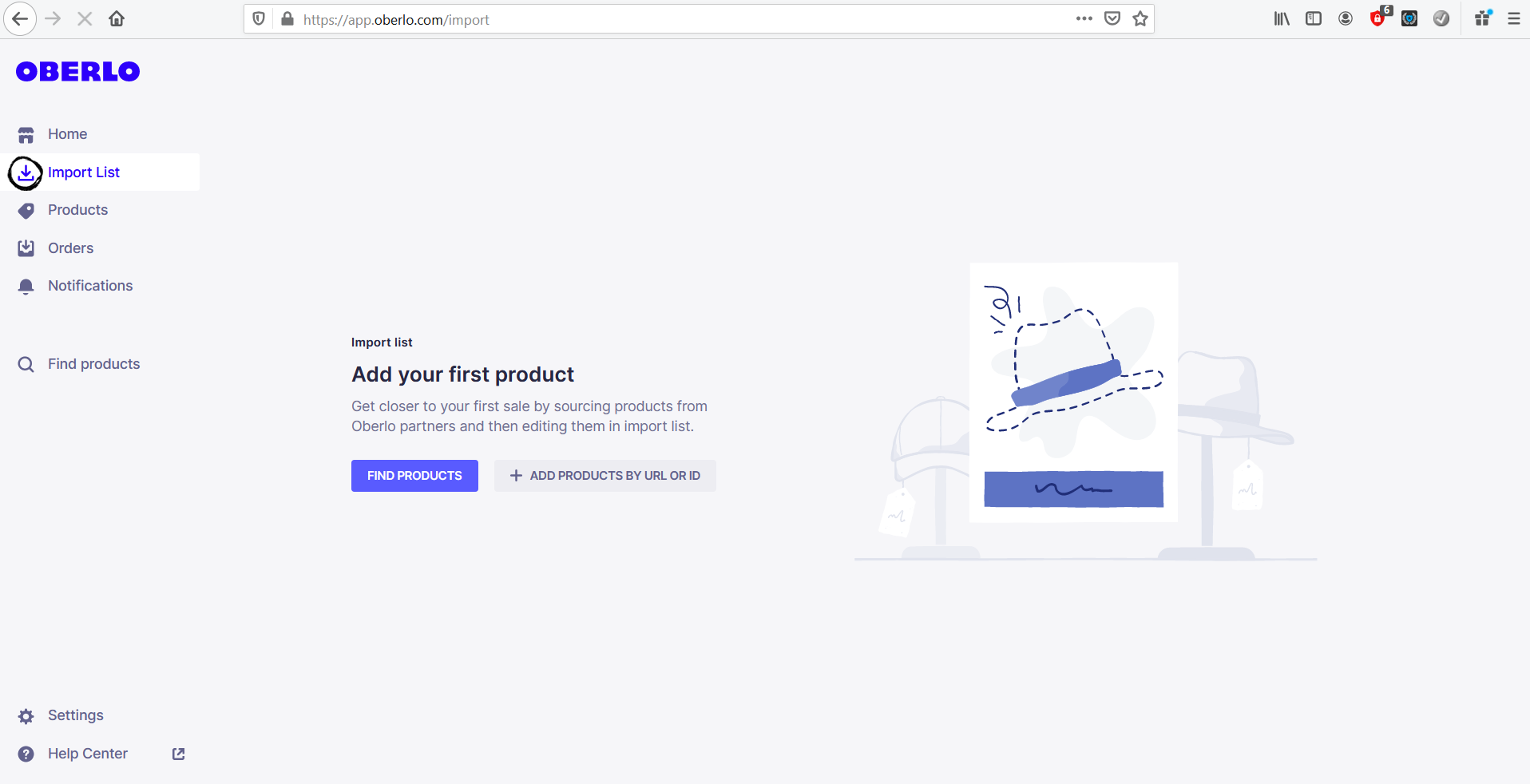 Now you need to choose which kind of product you want to dropshipping and then add it to import list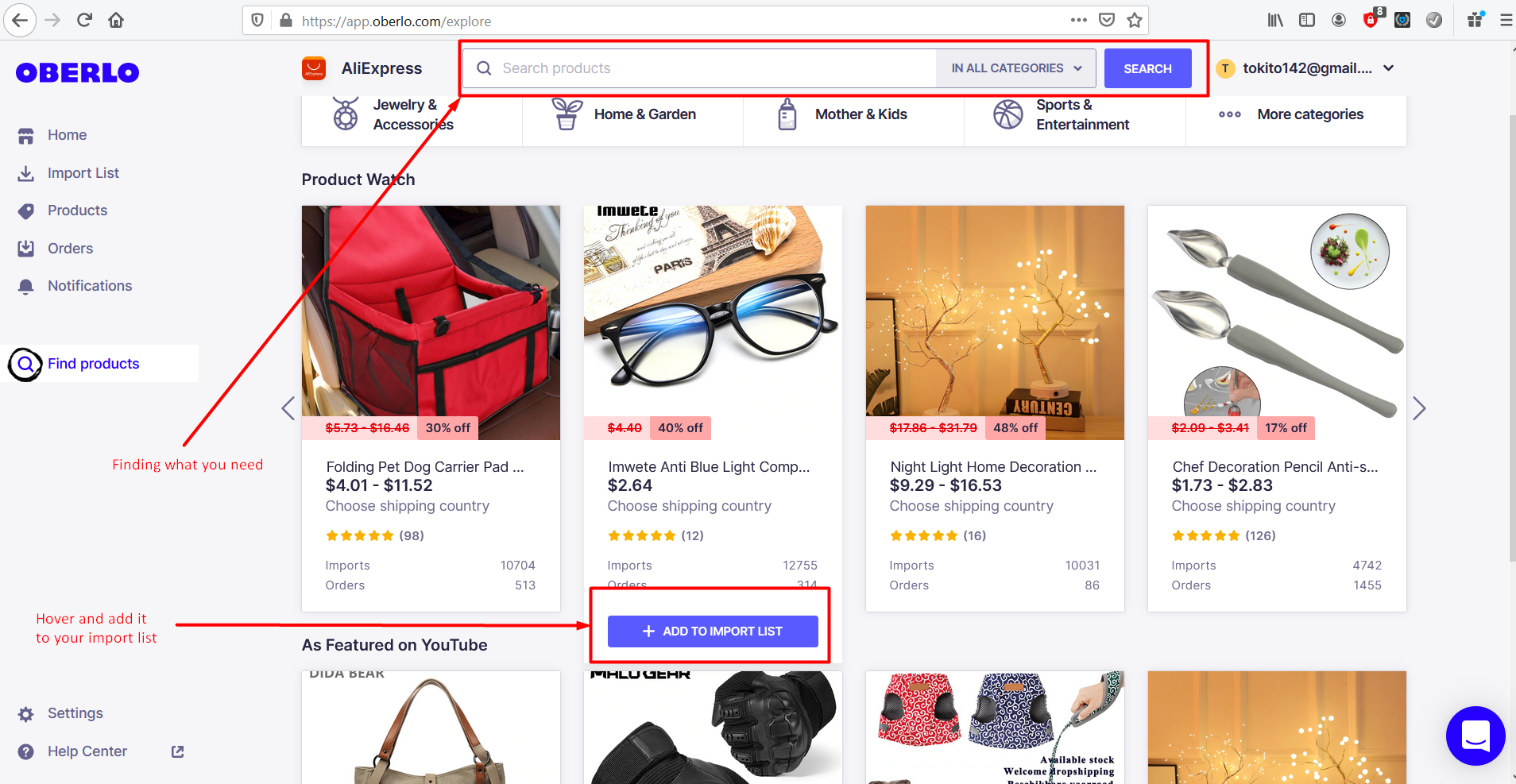 You can choose to either import all of your product or just a few of its variant to your liking. Remember that all product here will change price according to the rule that you have set in settings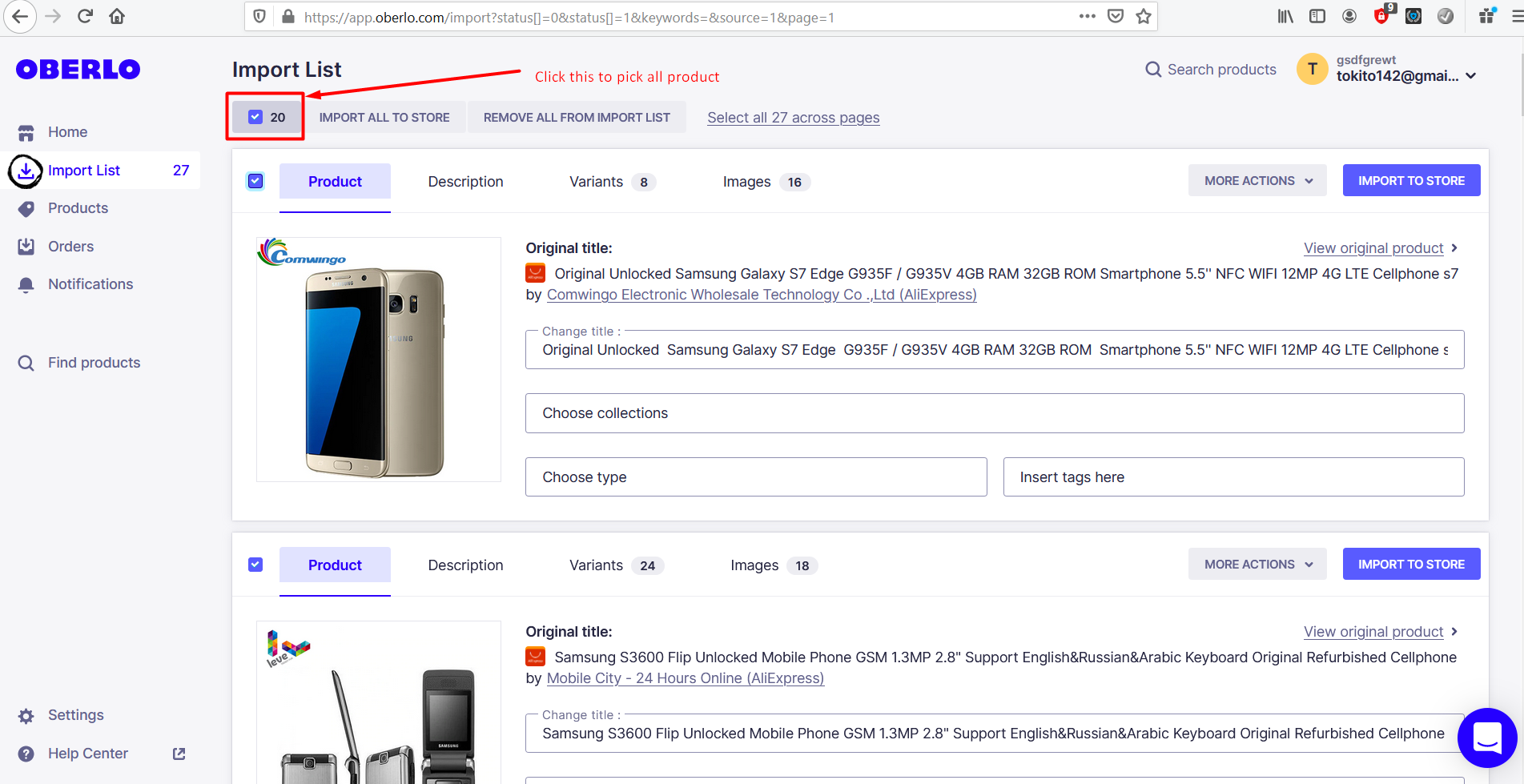 Finding products to sell in your online store can be a difficult process, especially if you're new to ecommerce. After all, it's critical that you fill your store's inventory with high-quality merchandise which you can sell at an affordable price point for your customers. When that happens, try to look into which products are trending. Here is the result after click import all.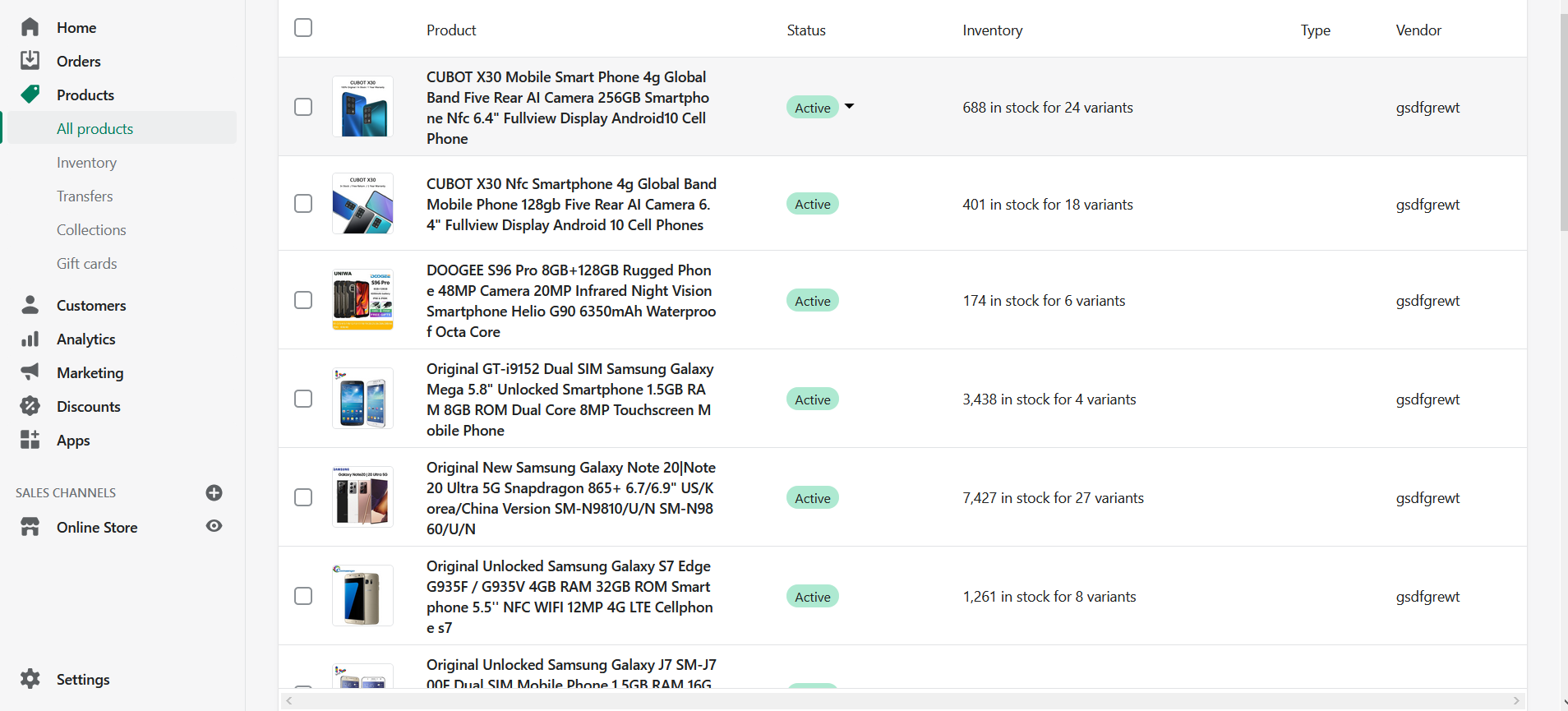 As you can see in previous image all product have been added to shop. With the Oberlo-Shopify integration complete, you can use the Oberlo app to search for products that you're interested in selling. Click the import button on any products that you'd like to sell and they'll be imported directly into your Shopify dropshipping store.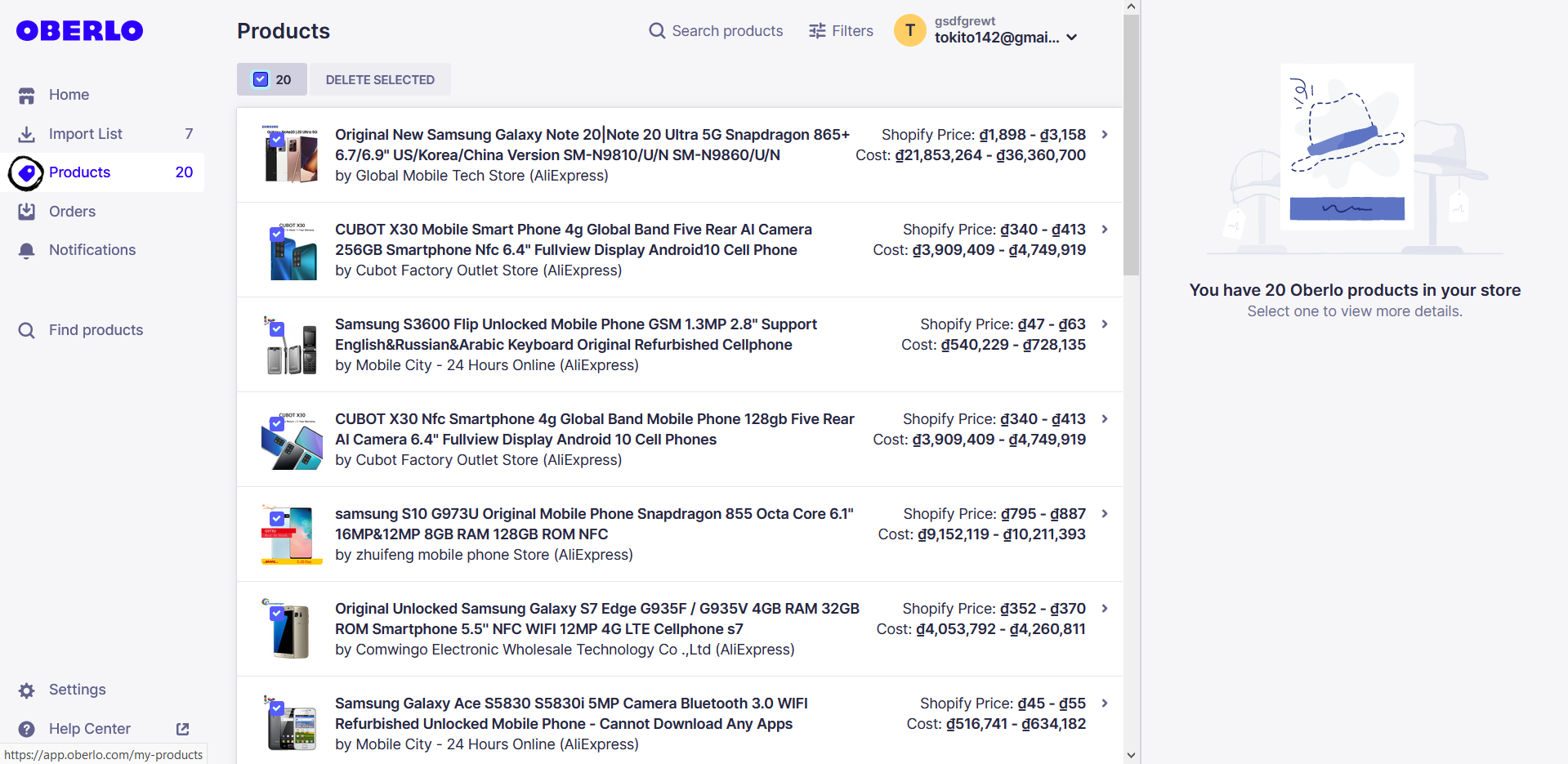 Note: After a Shopify account and Oberlo account are linked, you can't unlink them to connect your Shopify account with a different Oberlo account. If you want to connect a Shopify account to a different Oberlo account, then you need to start a new Shopify account.